Ensiapu -- First Aid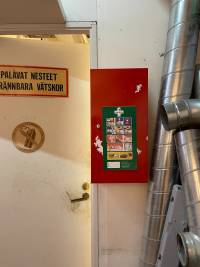 Hacklabin pääasiallinen ensiapukaappi sijaitsee Maalaamon oven vieressä seinällä.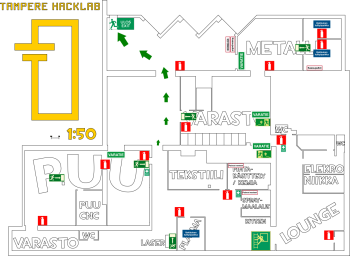 Sisältö on lajiteltu vammamekanismin mukaisiin laatikoihin seuraavalla tavalla:
Palovammasetti:
2kpl Jelonet rasvataitos

1kpl Vihreä yleisside, iso

1kpl Vihreä yleisside, pieni
Haava, pieni (verta alle ruokalusikallinen):
Puhdistuslappuja

Leikattavaa kangaslaastaria
Haava, keskisuuri (verta alle kahvikupillinen):
1kpl Vihreä yleisside, iso
Haava, henkeä uhkaava (verta yli kahvikupillinen):
1kpl Emergency Bandage -paineside
Lääkkeet:
10kpl Särkylääke, parasetamoli 500mg
Ensiapukaapin ulkopuolella sijaitsee lisäksi:
Ensiapukaapin ovessa (sisäpuolella):
1kpl sakset

1kpl pinsetit
Kun käytät tarvikkeita ensiapukaapista, ilmoita siitä yhdistyksen aktiiveille jotta puutteet voidaan korvata mahdollisimman nopeasti!
Ensiaputarvikkeita myy: tammed.fi sekä pamark.fi
---
---
English translation:
Hacklab's main first aid cabinet is located on the wall, next to the door to the paint room.
The content is sorted into boxes according to the type of injury, as follows:
Burn kit:
2 pcs Jelonet paraffin mesh

1pc Green universal bandage, large

1pc Green universal bandage, small
Wound, small (less than a tablespoon of blood):
Cleaning pads

Fabric patch to be cut
Wound, medium size (blood less than a coffee cup):
1pc Green universal bandage, large
Wound, life-threatening (blood over a cup of coffee):
1pc Emergency Bandage pressure bandage
Medicines:
10 pcs Painkiller, paracetamol 500mg
Outside the first aid cabinet is also located:
On the first aid cabinet door (inside):
1pc scissors

1pc tweezers
When you use supplies from the first aid kit, inform the active members of the association so that the items can be replaced as quickly as possible!
First aid supplies are sold by: tammed.fi and pamark.fi