Ompelukoneet
---
Juki DDL-8500 lukkotikkikone – industrial sewing machine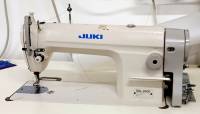 Threading Guide JUKI DDL-8500 & 8700 Industrial sewing machines (YouTube)
Juki DDL-8700 Manual (pdf)
Juki DDL-8500 Parts List (pdf)
The Organ needles are for use in the Juki machines and are stored in the drawer below the machine: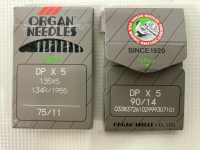 LOCKSTITCH or STRAIGHT SEWING MACHINES
DO NOT switch the bobbin cases!
If the stitch is uneven or messy, check the thread tension and adjust the screw if necessary. The thickness of the thread also affects the bobbin case.
The quality of the stitch is also affected by the needle.
The right kind of needle is required!

The thickness of the material/thread to be sewn affects the size of the needle.

Check the needle and if it is broken, replace it.
Wind the bobbin on the right side of the machine.
• Raise the presser foot up.

• Take the thread out of the needle eye.

• "Drive" to full to allow the oil to circulate in the device properly.
The bobbin must rotate clockwise in the housing.
Clean the machine after use.
The machine has hinges to allow the machine to tilt backwards.

The machine can be cleaned with compressed air.
---
Rimoldi 27.01 saumuri joustava – 3-thread overlocker machine
Rimoldi 263-46-3MD-05 tasosaumakone joustava – coverstitch machine
Union Special saumuri
Strobel
Singer