meta data for this page
Tarraleikkuri Summa D60R -- Vinyl Cutter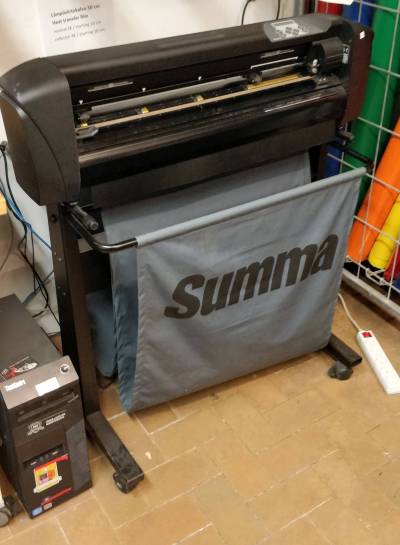 Uusi ja hieno joukkorahoitettu tarraleikkuri Summa D60R.
TODO
tarkista ChatGPT luomat käyttöohjeet:
"
Luo suunnitelmasi Inkscape-ohjelmassa: Avaa Inkscape ja luo suunnitelmasi. Varmista, että suunnitelmasi on vektorimuodossa, mikä tarkoittaa sitä, että se koostuu linjoista, muodoista ja käyristä, jotka voidaan helposti muuntaa poluiksi leikkausta varten.

Aseta sivun koko: Mene kohtaan Tiedosto> Asiakirjan ominaisuudet ja aseta sivun koko vastaamaan vinyylisi kokoa. Voit myös asettaa yksiköt millimetreiksi tai tuumiksi, riippuen mieltymyksistäsi.

Muunna teksti poluiksi: Jos sinulla on tekstiä suunnitelmassasi, varmista, että muunnat sen poluiksi. Tee näin valitsemalla teksti ja siirtymällä kohtaan Polku> Objekti poluksi.

Tallenna suunnitelmasi: Tallenna suunnitelmasi SVG-muodossa, joka on yhteensopiva Summa D60R -vinyylikirjoittimen kanssa.

Lähetä suunnitelmasi vinyylileikkurille: Avaa Summa Cutter Control -ohjelmisto ja valitse leikattava tiedosto. Säädä leikkausparametrit, kuten nopeus, voima ja terän siirtymä, vinyylityypin ja suunnittelun monimutkaisuuden mukaan.

Lataa vinyylisi: Lataa vinyylisi vinyylileikkurille ja säädä kiinnitysrullat varmistaaksesi vinyylisi pitävän otteen.

Aloita leikkausprosessi: Paina "Leikkaa" -painiketta Summa Cutter Control -ohjelmistossa aloittaaksesi leikkausprosessin. Vinyylileikkuri seuraa suunnitelmassasi olevia polkuja ja leikkaa suunnitelmassasi olevan kuvion.

Irrota ylimääräinen vinyylit ja siirrä: Leikkaamisen jälkeen irrota ylimääräinen vinyylit käyttämällä työkalua, jätä vain haluttu kuva. Käytä sitten siirtoteippiä nostamaan suunnitelma irti taustasta ja siirtämään se halutulle pinnalle.
Create your design in Inkscape: Open Inkscape and create your design. Make sure that your design is in vector format, which means that it's made up of lines, shapes, and curves that can be easily converted to paths for cutting.

Set up the page: Go to File > Document Properties and set the page size to match the size of your vinyl. You can also set the units to millimeters or inches, depending on your preference.

Convert text to paths: If you have any text in your design, make sure to convert it to paths. To do this, select the text, then go to Path > Object to Path.

Save your design: Save your design in SVG format, which is compatible with the Summa D60R vinyl cutter.

Send your design to the vinyl cutter: Open the Summa Cutter Control software and select the design file you want to cut. Adjust the cutting parameters such as speed, force, and blade offset according to the type of vinyl and the design complexity.

Load the vinyl: Load the vinyl onto the vinyl cutter and adjust the pinch rollers to ensure a secure grip on the vinyl.

Start the cutting process: Press the "Cut" button on the Summa Cutter Control software to start the cutting process. The vinyl cutter will follow the paths in your design and cut out your design.

Weed and transfer: After cutting, weed out the excess vinyl using a weeding tool, leaving only the desired design. Then use a transfer tape to lift the design from the backing and transfer it to the desired surface.
"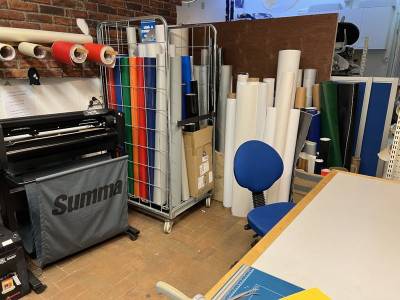 Materiaalit
Teippi 60 cm 0,5€ / alkava 10 cm

Lämmönsiirtokalvo 50 cm perusmateriaali 2€ / 10 alkava cm

Lämmönsiirtokalvo 50 cm heijastin 4€ / 10 alkava cm
Ohjaustietokone ja ohjelma