This page contains guides & rules, and answers to common questions and problems. Every new member should read this information carefully. The guide is kept short to minimize frustration.
Members permissions and responsibilities
Detailed membership options can be found from the Membership page.
A member of the Association must pay the member fee when joining, and again annually.
Unlimited use of the workshop requires a subscription fee, paid every month. Fee must be paid whether or not member is actually using hackerspace. It is paid for possibility to use space, not for actual usage.
It is recommended that every member joins our Tampere Hacklab's mailing list. A guide is supplied in the new member email message. Important announcements from hackerspace usage, courses, and other information will be sent to the mailing list.
Hacklab does not have janitor or other hired staff. Members using space must clean up after themselves. Dust and swarf must be swept/vacuumed, and tools must be returned to their places.
Hacklab has microwave, oven, hotplate and coffee maker. Any mess originating from cooking must be cleaned immediately, and dishes must be washed. There is a dishwasher in the kitchen, please use it.
Chat
Tampere Hacklab uses Matrix as the official messenger. Some rooms are bridged to IRC, Telegram, and other messengers. Instructions for creating your Matrix account on the Hacklab server are found here.
There is a special english language room available:
- Tampere Hacklab in english #engtre:hacklab.fi: https://app.element.io/#/room/#engtre:hacklab.fi
Join with qr code: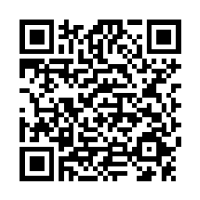 Community meetings
The monthly meeting is held every first Tuesday of month, starting at 19:00. If you want to affect the operation or acquisitions of Hacklab, attendance is recommended. The community meeting is open for everybody, and it is good opportunity to get to know other members. The meeting agenda can be usually found in scratchpad under meetings. Members can add points to agenda before the meeting. The agenda can not be edited during meeting.
It is recommended that new members take a part in least one community meeting, to introduce themselves and get acquainted with other members.
Noise generating work is prohibited during community meetings. The formal meeting usually lasts for one hour maximum.
Storing belongings in hackerspace
Hackerspace is not rental storage, so keep only active projects in hackerspace. Take inactive projects elsewhere.
Monthly members are allowed to keep one plastic box in storage. Box should be marked clearly, it must include name & nick and contact information.
Standard box is SmartStore Classic 15, which can be bought from many supermarkets and hardware stores.
Items outside of box should be clearly named.

If item does not have name, it is moved to "bonkki" and can be taken away and/or destroyed.
If you have special storage needs, ask permit of exception from administration. Items are stored mainly in storage, not in corridors or workrooms.
Tampere Hacklab ry. shall not be liable for any damage to or loss of stored goods on Hacklab's premises.
Storage space for rent
Monthly members (24/7) can rent storage space from the lab for unfinished projects at an additional cost:
Trolley or pallet 20 € / month (Hall of stuff)

Project shelf 10 € / month (shelves opposite the SmartStore shelves)

Locker 10 € / month (located in the lobby)

Workspace 15 € / m2 / month (or according to a separate agreement)
For more information on available storage space ask by e-mail info@tampere.hacklab.fi or in the association's instant messengers. The need for additional short-term space can be paid as a higher space usage fee in connection with the normal space usage fee or with iZettle by printing a receipt for the payment made in a visible place near the storage space. The name or well-known nickname and e-mail address from which the renter can be reached must be clearly marked in connection with the rented space.
For longer-term storage space needs, contact info@tampere.hacklab.fi
What will happen for the unpaid storages
The tenant may be given 1 month to rectify the situation or settle with the board. This month includes the ability to empty the space from your own belongings.
If there are no payments for two months, the space can be emptied and can be rented to the next one, any goods left in the space will be disposed of at the tenant's expense. There is a one-time charge of € 100 for cleaning.
Materials
Hackerspace has many different materials for members to use. Wood, acrylic, metal, chemicals & paints, screws etc. can be found from corresponding workshops. Materials are free if a price is not indicated.
If your project has leftover materials, it is recommended to leave them in hackerspace for public use.
Shelves/Boxes
The shelves adjacent to the lounge have boxes for many public usage items, such as:
Tapes

Plastic bags

Rubber bands and materials

Safety gloves

Cleaning supplies
Extensions cords and power strips

Power cords and connectors

Power supplies & transformers

Video cables: DVI, VGA, Scart, component, RF, s-video…

Audio cables: RCA, plug, jack, tr, trs, xlr
IT-parts and computer items: GPUs, soundcards, bluetooth, usb-devices etc.

Speakers
Metal profiles and extrusions

Screws and anchors

Stone

Velcro and foamed plastic

LED-strips
Stepper motors

DC-motors

Arduino

Misc electronic items in corresponding boxes
Owned and paid materials
If material contains name, it is owned by member. Ask owner if it can be used. Always mark your name to your own materials, or they else are assumed to be public materials.
If material has a pricetag, it must be paid before use. Pay materials to beverage cashbox if not otherwise informed.
Lasercut approved plywood can be purchased from A-Mekanisaatio booth
Compensation for materials
Even though most materials are free and in public use, it is assumed that members bring compensatory materials to hackerspace after usage, especially if large amounts of material is used. Material storage at hackerspace runs with gentleman's agreement:
If you use e.g. 15 pcs M3-screws, buy 20 pcs from hardware store, and put them in place. Few parts does not count.
Use your common sense: if M3-screws are well stocked, but M5 screws are out of stock, buy them instead.
If you visit hardware store, or order online, you can ask other members what should be bought for hacklab.
A-Mekanisaatio Booth
A-Mekanisaatio is Arno's establishment. Laser cut approved plywood, magnets, components as well as other special materials can be purchased when booth is open for business.
LED-strips
Rolls of LED-strips (in different colors) can be found from electronics workshop and from storage boxes. They are paid in LED-cashbox. If some color is running out, order more and ask for compensation.
Hacklab shop a.k.a premium bonk
Bonkki is slang word which translatest to "An item that is thrown away as unwanted or non-functional, but somebody other sees value in it." Word originates from radio amateur jargon and from Alvar Gullichens art
Located at lab premises there is Hacklab shop trolley where members can buy second hand stuff. Stuff is separated on three trolley shelf 1-5, >5 and >10 €. Near the trolley there is a cash box for the purchase payment.
The funds will be used for the benefit of the community.
Circulation of Bonk
Good bonk
0–10 year old computers and mobile devices. Haswell and newer Intel machines and Zen1 and newer AMD machines are welcome. Loose components (power supplies, hard drives, motherboards, GPUs, coolers…), assuming they're functional and in a condition where they can be installed without compatibility issues (e.g. mobos and CPUs preferably in pairs).

Industrial and laboratory equipment.

Remote controlled, technology containing toys

Space, aviation and military equipment. Everything made in Soviet Union.

Otherwise cool looking devices, e.g. devices from 70s and older.

Retro computing: Commodore, Atari, Nintendo etc. Broken devices are also welcome for repair parts.

Non-PC computers: Unix computers, text and X terminals.

Generally everything containing interesting mechanical parts, or parts that can be reused

Tools, all kinds of tools are excellent bonk. It is recommended to ask if hackerspace is missing mentioned item.
Bad bonk
Too old or broken PCs (they are everywhere), "lonely" PC parts such as an old mobo with no CPU.

Large equipment like copy machines and PA-speakers

CRT monitors and TV-sets (exclusion: Videomonitors, e.g. studio/broadcast grade or C64/Amiga/Atari monitors).

Easily available common junk: Set top boxes, ADSL and cable modems, IPTV boxes etc.

Dangerous or harmful waste: Broken batteries and chemicals

Little technology containing devices: electric ketles, vacuum cleaners, electric mixers, microwaves…
Bring bad bonk only if you have arranged someone else to retrieve it out of hackerspace soon.
Tools
Hackerspace contains tools owned by organization and borrowed from members. (see the Workspace page and Tools page)
All tools are free to use provided that member knows how to use them without breaking them. If you don't know how to use them, ask for help. After use, tools must be returned to their places. Machines require monthly membership and a small tutorial course before using.
Breakdowns
Tools at workshop tend to wear out and break from time to time. If broken item was valuable, report it to administration and compensation will be negotiated.
Drill bits snaps often. If you break them in large quantity, you should buy new set to hackerspace and it will be acknowledged by that.
Bandsaw blades snap sometimes as well. Please inform someone to change the blade if you are no able to do it yourself.
Borrowing equipment
Monthly members can borrow tools for brief periods. When borrowing tools, fill your name, phonenumber and name of the tool in The Book of Borrowing (located in lobby). For lending stuff for longer periods, please contact the administration via e-mail.
Making noise
Hackerspace is meant for building, so making noise is allowed. We are located in industrial building where noise is not a problem at any time.
Notice: during meetings, workshops, courses and lectures loud noises is prohibited. Quiet work is allowed, but please take notion of not disturbing others. Lecturer has a right to demand stopping any work that disrupts course.
Always close the doors of wood/metal/plasma rooms. Always wear appropriate hearing protection and notify others in case they are not wearing some.
Beverages and fridge
You can buy beverages and other goods from the fridge and the vending machine. Catalogue and prices can be found on the door of fridge. Unnamed beverages in larger bottles are free to use.
You can store small amount of own drinks and food in fridge given that they are named properly.
Beverages and goods are paid in wooden cashbox near the fridge, or by card with iZettle machine.
NEVER STORE POISONOUS OR HAZARDOUS MATERIALS IN FRIDGE
Beverage account
For avoiding use of coins you can pay for beverages beforehand. Fridge door contains list where you can put your name, amount of money in account and bought beverages. Bought beverages (in euros) can be marked as
Beverages are always paid beforehand - no debt is allowed'.
Improving hackerspace
Hackerspace follows Do-ocracy method. If you want to improve hackerspace, just do it.
If you have suspicion that somebody is not happy of idea you have, ask from other members what they think of your idea of improvement. If idea does not please others, it is better to be left unimplemented. Larger and money involving changes must be always approved by administration or in community meetings.
General guide: Use common sense
---
Safety
Dying or seriously injuring anyone in hackerspace is forbidden! First aid kits are located in visible places, make clear to yourself where it is located. Please inform administration if first aid kits are lacking supplies. Various personal protective equipment can be found in workspaces, use them appropriately when there is a possibility of hazard.
Fire
Hackerspace is equipped with CO2-extinguisher, several powder extinguishers and fire blankets. Notify yourself of their location especially if you work with welding, hot tools or flammable chemicals.
In case of fire, use CO2-extinguisher, if it is possible. Powder extinguishers cause terrible mess, often worse than small fire would have caused. (all equipment must be opened and cleaned thoroughly, all porous surfaces will be permanently infused with powder and it will damage items.)
Window can be used as a second fire escape by breaking it with supplied hammer. Fire escape ladders are located outside of window, on the left.
Charging lithium-ion batteries and usage of low quality chargers must be always done under monitoring.
Leaving batteries charging unattended is prohibited!
Dangerous materials and items
Following items are forbidden unambiguously:
Ammunitions and explosives. Servicing guns is approved, but leave ammo at home.

Working, handheld illegally powerful lasers. Can be identified often by color other than red. Powerful lasers are OK in enclosed devices e.g. laser cutter, where protection is in order.

Radioactive and otherwise very toxic materials. All unidentified and unlabeled chemicals should be considered dangerous.
If you notice any prohibited items notify owner, administration or emergency services depending of situations severity.
Use of Doors
The Lab has an outer door (outside at the top of the steel stairs) and a Lab door (in the inner lobby) where the Lab facilities begin. Both doors are normally locked unless there is an open house night.
If you have paid for the right to use the space and the payment appears in the mulysa member register, calling the door number +358452692991 will open the door for about a minute. The call is not answered and the call costs nothing. The door can now also be opened with an NFC card. Select the desired NFC card (eg TKL bus card) and flash it to the NFC reader next to the doorbell. The reader displays the card ID number on the screen. Log in to the member register and reserve the ID number coorresponding to your card, from the My Settings page.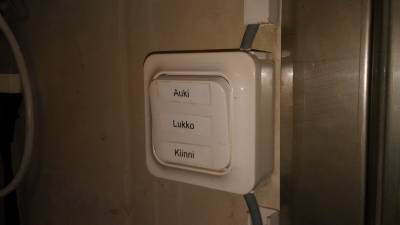 Exterior door:
There is an electrical switch next to the door that allows the door to be permanently opened (Auki) or locked (Kiinni). If you are the last to leave the lab, put the switch in the locked position and make sure the front door locks behind you. Excluding weekdays during office hours, when there are people in neighboring companies. If the door is open and there are activities in the neighborhood, leave the door open.
Lifting doors:
There is a locking pin on the left side of the doors, which must be in its hole for the door to be locked. When you leave, check that these are locked.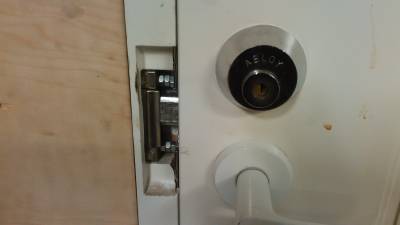 Lab door:
Locking the door requires you to twist the thumb-turn and then the lever handle on the inside of the door so that the lock latch extends. Hold the outer handle down while closing the door, and make sure it stays closed and locked. If you are the last to leave, lock the door. If there are members you don't know when you leave, it's a good idea to ask if you know how to close the door and show it if necessary. Only members with the right to use the space or persons under their responsibility may remain in the lab.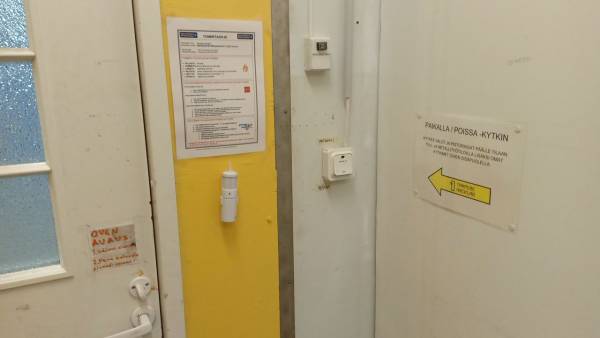 Inside the inner door there is a on / off switch on the wall. When you leave the lab last, put it in the off position (Pois or down position). In this case, a number of sockets become de-energized, preventing, for example, fires and unnecessary switching on of the equipment.
Suspicious characters move around Nekala at night, so make sure the doors are locked for the night!
If any of the doors are open in the morning, report it to the government and we will try to find out who left it open.
---
Commercial activity
Small scale commercial activity (e.g. making products for selling) is allowed in hackerspace, if it does not disturb other members' activities. If you are planning on doing commercial work in hackerspace, notify administration. Profitable business should be compensated for the community somehow. Compensation could be monetary, free products or maybe a public workshop / lecture of your profession.
All hackerspace materials used in commercial work must be paid for. Usage of CNC- machine time should be compensated as well.
Commercial work should be done when hackerspace is less crowded. For instance time-consuming 3D printings are not recommended when there are many users queuing for the same machine.
Waste
At our Hacklab, waste is sorted according to general good practices, e.g. wood, sawdust, metal, bio- and mixed waste, and hazardous waste. For more information and additional instructions for waste sorting, see https://pjhoy.fi/en/waste%2520search/.
There is no official waste removal, so each member should involve in emptying the bins if necessary. There are collection points for mixed waste and biowaste at the parking area of the property. Other waste is to be transported, for example, by HackLab's trailer to the nearby Nekala waste station https://pjhoy.fi/en/waste%2520station/tampere-nekala-waste-station/.
Mixed waste (sekajäte): The lab has a few mixed waste bins with a waste bag. When the bag is full, replace it with a new waste bag and take the full bag to the waste compactor. It is located outside at the parking area near the smoke stack.

Wood waste (puujäte):

Firewood: Cut into approximately 45 cm pieces and place in the boxes provided.

Pieces of board, blocks smaller than firewood, etc .: In to the woodworking area's brown Puujäte-bins. Empty the Puujäte-bins in to the waste compactor when necessary.

Chips, shavings, sticks: in to the Sekajäte-bins. Do not put these in Puujäte-bins because they form an awful dust cloud when emptied in to waste compactor.

Pressure impregnated wood: This should not be worked indoors, chips and debris are hazardous waste. Deliver to Nekala waste station.

Metal: To the collection bin in the loading area.

Bio waste (biojäte): To a biowaste bin in the parking area, next to the waste compactor. Take away the smelly food scraps etc. immediately. Please. Please. Please.

WEEE aka waste electric and electronic equipment(SER): Gray bagless bin is located in the electronics area.

Hazardous waste: Batteries, accumulators, paints, varnishes, solvents, oils, etc. No collection at the lab - take the hazardous waste to a collection point, for example to the Nekala waste station.

Bottles and cans: A collection point can be found in the kitchen. Drink cans and bottles include pledge so don't crush them.

Large objects: take them away yourself